TimeSparker
News
Yamy Ordered to Compensate Former Talent Agency $1 Million in Dispute
Yamy Ordered to Compensate Former Talent Agency $1 Million in Dispute
---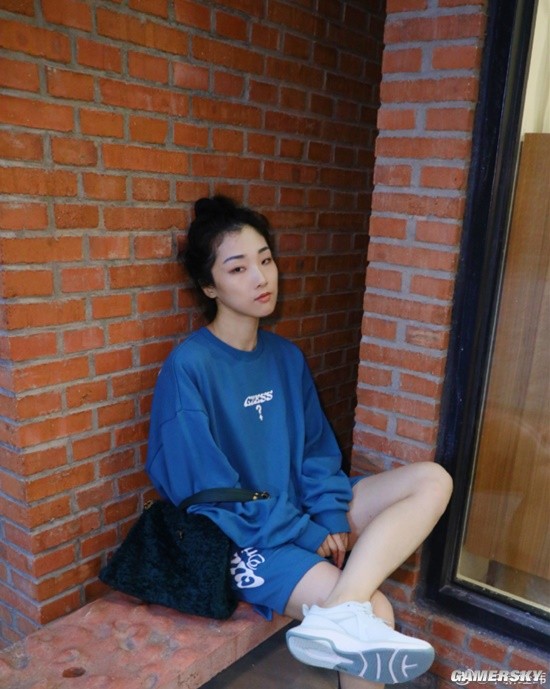 According to a report by China New Economy, the first-instance judgment in the case involving Beijing Extreme Creative Gravity Culture Media Co., Ltd. and Guo Ying (stage name Yamy) has been made public.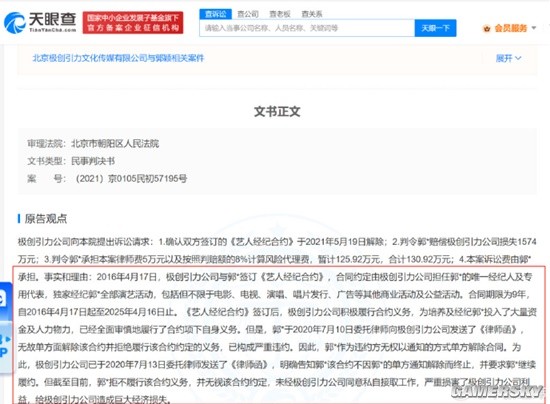 The document reveals that the plaintiff, Extreme Creative Gravity, claimed that they signed a 9-year artist management contract with Guo Ying in April 2016, investing a substantial amount of funds and manpower in her career. However, in July 2020, Guo Ying requested to terminate the contract and refused to fulfill her contractual obligations, which constituted a serious breach of contract. They sought a court order to compel Guo Ying to compensate them for the loss of 15.74 million RMB. Defendant Guo Ying argued that she exercised her right to terminate the contract due to significant breaches by Extreme Creative Gravity. Additionally, she counter-sued, alleging that the company failed to provide the agreed-upon artist management services and made statements damaging her reputation. She requested the court to rule that the contract was terminated in July 2020 and that Extreme Creative Gravity pays her 123,000 RMB in profit-sharing.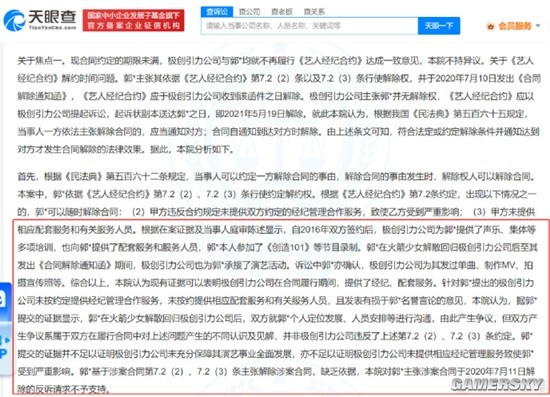 The court, after deliberation, found that Guo Ying's submitted evidence indicated disputes between her and Extreme Creative Gravity regarding her personal career development and personnel arrangements after her return to the company following the disbandment of Rocket Girls. However, her evidence was insufficient to prove that the company failed to adequately support her comprehensive career development, and as a result, her counterclaim to terminate the contract in July 2020 was not supported. According to the contract terms, it was Extreme Creative Gravity who initiated the lawsuit, and the contract was terminated on the date of delivering the lawsuit copy to Guo Ying (May 19, 2021). Since Extreme Creative Gravity fulfilled its contractual obligations and incurred expenses for training and cultivating the artist, they were entitled to claim damages. In the end, considering factors such as the contract duration, the parties' performance under the contract, and the degree of fault of each party, the court determined that Guo Ying must compensate Extreme Creative Gravity with $1 million.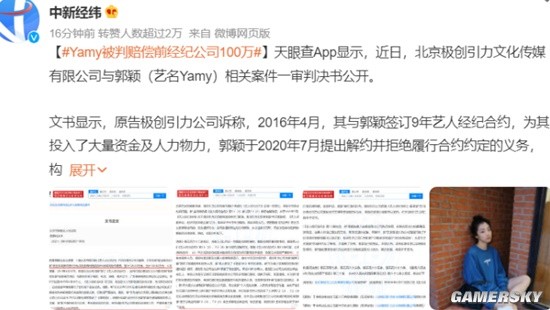 Previously, former Rocket Girls member Yamy exposed a recording of the boss of her former talent agency, Extreme Creative Gravity, in which he made derogatory remarks about her during a company meeting, describing her as "ugly, unfashionable, worthless, and a terrible singer." Yamy's request was to terminate her contract. At the time, the boss, Xu Mingchao, responded that he would apologize to colleagues but not to Yamy, stating that the termination issue would be left to the legal process.
---