TimeSparker
News
Leonardo DiCaprio's "Flower Moon Assassin" Receives Rave Reviews with a Fresh Rotten Tomatoes Score of 98%
Leonardo DiCaprio's "Flower Moon Assassin" Receives Rave Reviews with a Fresh Rotten Tomatoes Score of 98%
---

Directed by Martin Scorsese, the new film "Flower Moon Assassin," starring Leonardo DiCaprio, has garnered high praise from the media, currently holding a remarkable 98% fresh rating on Rotten Tomatoes and an 8.9 rating on IMDb. The movie is set to premiere in North America on October 20.
Selected media reviews: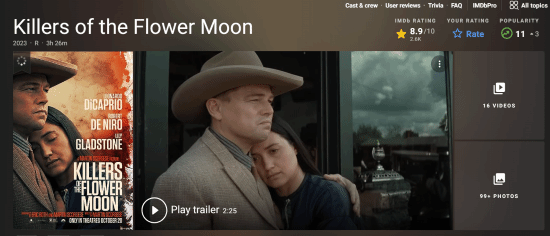 New York Post: Even for the maestro Martin Scorsese, turning this true story into a hit movie presented a high level of difficulty.
Draftkings Nation: "Flower Moon Assassin" is Scorsese's epic Western, delving into the original sin of America—the unrelenting thirst for power and the various resources people employ to break free from its grasp.
Planet S Magazine: This film represents a culmination of many seasoned professionals in the industry. DiCaprio and De Niro, under Scorsese's direction, deliver exceptional performances.
Slate: "Flower Moon Assassin" is a grand cathedral-like cinematic experience, with ambitious scale, yet it has a peculiarly intimate impact on the audience.
---