TimeSparker
News
Willy Urshan Talks "Creation of the Gods": Proton Team to Make a Comeback in the Third Installment
Willy Urshan Talks "Creation of the Gods": Proton Team to Make a Comeback in the Third Installment
---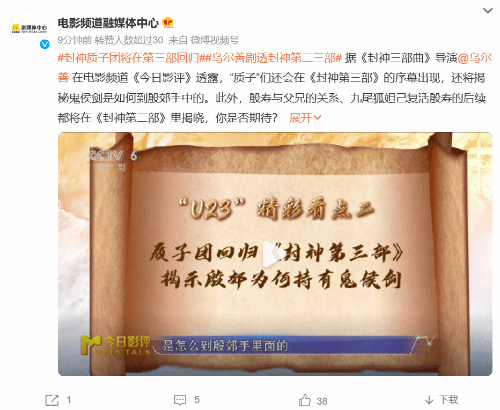 According to director Willy Urshan, in an exclusive interview on the "Today's Movie Review" TV show, the "Proton Team" will make a grand return in the upcoming "Creation of the Gods III." Furthermore, the show will unravel the mystery behind how the Ghost Lord's Sword ended up in the hands of Yin Jiao. Additionally, the complex relationship between Yin Shou and his father and brother, as well as the aftermath of Nine-Tailed Fox Daji resurrecting Yin Shou, will all be revealed in "Creation of the Gods II." Are you excited about these upcoming developments?
Original Weibo Link>>
"Creation of the Gods" is a series of action-fantasy films directed by Willy Urshan and written by a team including Ran Ping and Ran Jia Nan. The cast includes Huang Bo, Fei Xiang, Li Xuejian, and more. "Creation of the Gods I: Kingdom of Storms" was released in mainland China on July 20, 2023. These films draw inspiration from the classic Chinese novel "Creation of the Gods" and are produced in a continuous filming mode, depicting an epic mythical war that took place over three thousand years ago, involving humans, immortals, and demons.
---