TimeSparker
News
Producer Confirms: The Zhao Family Clan's "Legend of Magpie Blade" Gets Second Season
Producer Confirms: The Zhao Family Clan's "Legend of Magpie Blade" Gets Second Season
---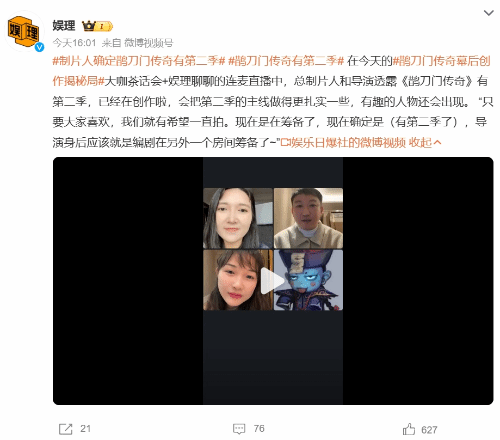 According to entertainment insiders, in today's behind-the-scenes creative insights session and live chat hosted by Entertainment Insights, the executive producer and director revealed that "Legend of Magpie Blade," the popular martial arts comedy, is set to have a second season. The team is actively working on it, promising a more solid main plot and the introduction of even more interesting characters.
"As long as the audience enjoys it, we have the motivation to keep shooting. We are currently in the preparation phase, and it's confirmed that there is a second season in the works. Behind the director is where the writers are actively planning in another room~"
Original Weibo link>>
"Legend of Magpie Blade" is directed by Tang Tiejun and Wu Di, with Zhao Benshan leading the cast. It features prominent actors like Song Xiaobao, Song Xiaofeng, Wen Song, Cheng Ye, and Yang Shulin. This martial arts comedy tells the story of Ximen Changhai, the head of Magpie Blade Sect, who is determined to eradicate Japanese pirates and joins a secret plan to eliminate them. To keep the plan confidential, Ximen Changhai appoints his chef brother Ximen Zhang as the acting sect leader, leading to a series of comical and touching martial arts stories within the sect.
---