TimeSparker
News
Actor Ma Weijun Passes Away at 67 Due to Health Reasons, Known for Portraying Japanese Officer Captain Matsumoto
Actor Ma Weijun Passes Away at 67 Due to Health Reasons, Known for Portraying Japanese Officer Captain Matsumoto
---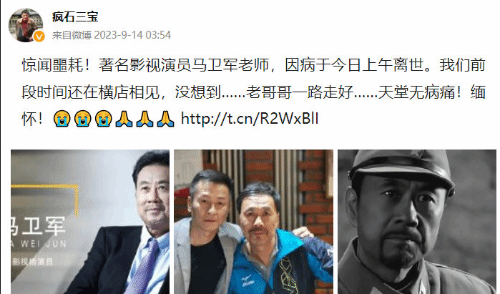 According to Sina Entertainment, actor Liu Gang shared the heartbreaking news today that film and television actor Ma Weijun has passed away at the age of 67 due to health reasons.
Liu Gang revealed that he had seen Ma Weijun not long ago in Hengdian, but "unexpectedly... our elder brother has passed away... May he rest in peace in heaven, free from pain!"
Ma Weijun's notable works include "The Creation of the Gods," "Creation of the Gods I: Kingdom of Storms," "Oppenheimer," "The Legend of the Gun God," and "My Brother's Name Is Shunliu." He left a lasting impression on audiences for his portrayal of Japanese officers such as Captain Matsumoto and Major Nomura, earning him the title of "a professional in the field of Japanese military officers."
---