TimeSparker
News
Jean-Claude Van Damme Reveals Opportunity to Star in "Fast & Furious," But Vin Diesel Disagreed
Jean-Claude Van Damme Reveals Opportunity to Star in "Fast & Furious," But Vin Diesel Disagreed
---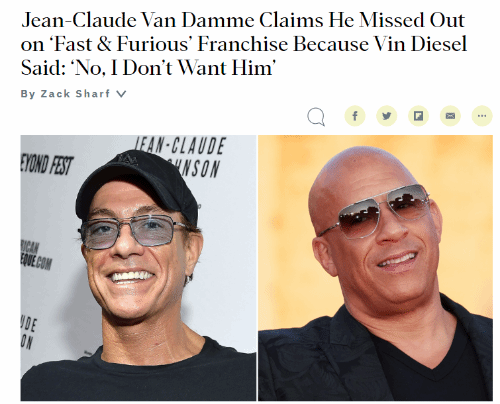 Renowned actor and martial artist, Jean-Claude Van Damme, recently disclosed in an interview with "The Daily Telegraph" that he once had the chance to feature in the "Fast & Furious" series, but unfortunately, the lead actor, Vin Diesel, disagreed.
Jean-Claude Van Damme originally expressed interest in joining this film, which gathers a host of action stars such as Dwayne Johnson and Jason Statham. However, Vin Diesel was firm in his response, stating, "No, I don't want him."
As for which installment of the "Fast & Furious" series Jean-Claude Van Damme could have potentially joined, he did not reveal specific details. The media outlet "Variety" has reached out to Vin Diesel's representatives for comments, but as of now, they have not received a response.
---